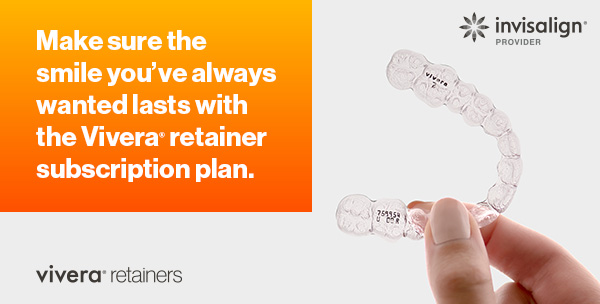 In orthodontic treatment, retainers are the single way doctors and patients are able to ensure retreatment is not needed later in life. Although retainers are a lifetime commitment, they may not last a lifetime. Retainers wear down over time and lose the ability to keep teeth straight. Just like how you replace your toothbrush regularly, it's important to replace your retainers.
Here at Holliday Orthodontics, we have created a subscription program that gives you the opportunity to receive retainers either annually/or biannually at a discounted rate. You are able to choose the plan that fits your lifestyle best.
1 set per year

2 sets per year

Setup fee (one-time only)*
Current patients
$50
$50
Non-patient
$300
$300
Subscription plan**
$19 per month
or
$180 per year
(save 21%)
$25 per month
or
$250 per year
(save 16%)
* One-time setup fee may be omitted for patients needing an updated scan to pending work or discretion made by the doctor. Non-patient setup fee includes the initial scan needed to start a subscription.
** Pricing before taxes. There may be an additional $25 fee if the patient must be scanned or needs an updated scan.
Interested in signing up for our retainer subscription? Give our office a call at (808) 485-1187 and we will be happy to walk you through the process.
Why Vivera® retainers?
Clear and virtually invisible
Custom-made for you
Made with the same state-of-the-art technology used to make Invisalign® clear aligners
Less likely to crack or break than other clear retainers
Frequently-asked questions
Are both Invisalign and Braces patients able to utilize the subscription program?

Yes! All patients with clear retainers are able to subscribe.

How often will I be able to receive retainers per year?

The patient will be able to choose if they want to receive a retainer every 6 months or every 12 months.

Is there a payment plan option for the retainer subscription?

Yes, we will provide pricing options for both one-time payments and monthly payments once a quote is requested.

Am I allowed to cancel the subscription at any time?

Yes, the program can be canceled at any time online at my.invisalign.com.

If I did not receive treatment from Holliday Orthodontics, am I able to subscribe?

Yes, we will bring you in for a scan of your teeth and create a mold for your retainers.

What is the process of payment for nonpatients when signing up for the subscription?

Once an appointment is scheduled with our office, we will collect a fee of $250 (price for the initial scan) either over the phone or at check-in.
After the scan is complete, we will send you your quote via email where you will create/log in to your Invisalign account.
After selecting your payment option, a one-time fee of $50 + tax will be collected at sign-up.
Once complete, we will start your prescription for your retainer, and once shipped you will then be charged for the monthly/annual fee you selected from the quote.